The 2015 State of the Commons report shows the tremendous growth in adoption and use of Creative Commons licenses around the world. With that growth comes an expanding need to help organizations and individuals acquire the skills and knowledge they need to successfully use Creative Commons.
Over the years there have been a variety of efforts, by Creative Commons and others, to develop education, training, and support materials for that purpose. I'd like to extend a huge thank you to all those who have done this work. The Creative Commons certificates initiative aims to build and expand on all those efforts.
With the generous support of the Bill & Melinda Gates Foundation and the Institute of Museum and Library Services I'm leading an effort to design and develop a comprehensive "core" curriculum of learning associated with all things Creative Commons, and a set of specialized certificates targeting the needs of government, librarians, and educators.
The aim of this effort is very practical and applied but we've adopted a series of innovative approaches to get there. Four main innovations are guiding our work:
Do the design and development in the open.
This is inspired by the way the Open Source Software sector works and efforts of educators like Wayne Mackintosh to design and develop OERu completely in the open, Paul Hibbitts at Simon Fraser University to Develop Courses in the Open and the work of Alan Levine who embodies this mode of working through his Cogdogblog.
Create the certificates as 100% Open Educational Resources.
We aim to do this by finding and remixing as much existing openly licensed content as we can, filling gaps by generating new content which will be openly licensed with Creative Commons, and defining learning activities that have certificate participants create additional content in an evergreen perpetual process. Our upcoming release of the certificate designs will provide a means for everyone to tell us about existing resources we should build on.
Use open pedagogy and open web learning processes including performance-based renewable assessments.
Conceive of a new kind of credential.
This one is more conceptual than real at this point. But the idea is that education and training are still very reliant on decades old notions of what constitutes a credential. The question we're asking ourselves is, What does a credential in the new global and digitally networked world look like?
Designing and developing Creative Commons certificates using these innovations is very ambitious. But I'm fortunate to have an awesome team of colleagues who are willing to give it a go. Special thanks and appreciation to Kelsey Wiens, Kamil Śliwowski, Olga Belikov, Alan Levine, and David Wiley.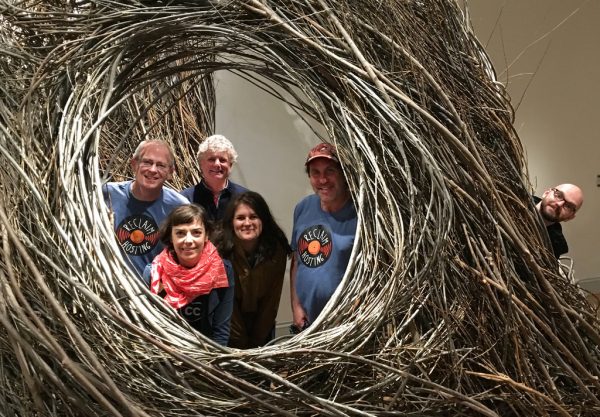 CC Certification Team Photo by Alan Levine CC-BY
As a first step we've been very focused on coming up with designs. First I led a session with my fellow Creative Commons colleagues aiming to define a comprehensive set of learning associated with all things Creative Commons. Using a a DACUM (Developing a Curriculum) design process I led my colleagues through a 2 day design session.
The resulting output is this monster GoogleDoc spreadsheet with learning outcomes, seven modules, and an extensive set units of learning and sub-objectives for each module.  This is a big document and requires a lot of scrolling to view online. To best visualize the entire scope of what I now call Creative Commons "Core" I recommend printing it out – but take note that its a 3 foot by 8 foot document.
In a DACUM design process the focus is on working directly with subject matter expert practitioners to produce visual profiles of the knowledge and skills needed to perform actual job and occupation related Creative Commons duties. So phase two of the design process has involved working with educators, librarians, and government staff on refining Creative Commons Core and defining specialized Creative Commons certificates relevant to their jobs. Special thanks to all those who participated in our Washington D.C. workshop.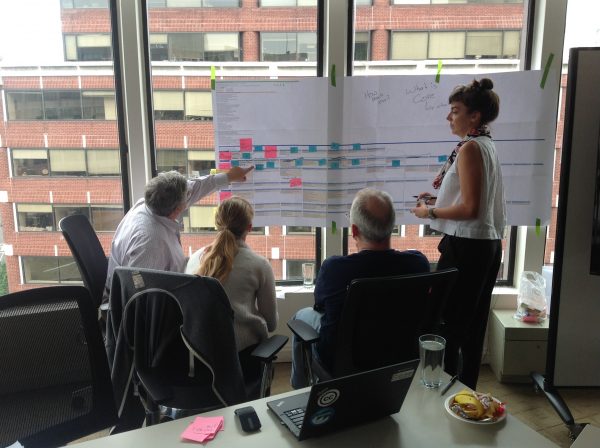 A 3 foot by 8 foot document is unwieldy so the first part of the workshop focused on consolidating and condensing Creative Commons Core. I've generated a couple of visuals to show what it looks like now –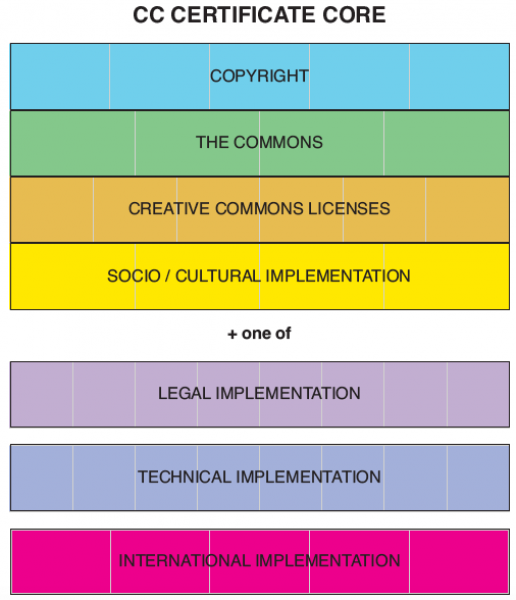 The basic idea of CORE is that it is foundational curriculum intended to cover all aspects of Creative Commons. I'm still not sure whether Creative Commons CORE is itself a certificate (who would take it?) or merely foundational curriculum from which other specialized certificates can be created. But if it is a Certificate the top four modules, Copyright, The Commons, Creative Commons Licenses, and Socio-Cultural Implementation are seen as mandatory. To get a Creative Commons CORE certificate a participant would take all of the top four and then choose one from the bottom three modules, Legal Implementation, Technical Implementation, or International Implementation based on their interest or need. One scenario for CORE being a certificate is as a means of doing "train-the-trainers". People or organizations who want to be authorized as Creative Commons endorsed providers of training would be required to take and complete CORE.
Each of the boxes inside the colour band modules represent units of learning. So for example Copyright has five units of learning and The Commons has four. Here's a second diagram showing the full set of units of learning within each CORE module.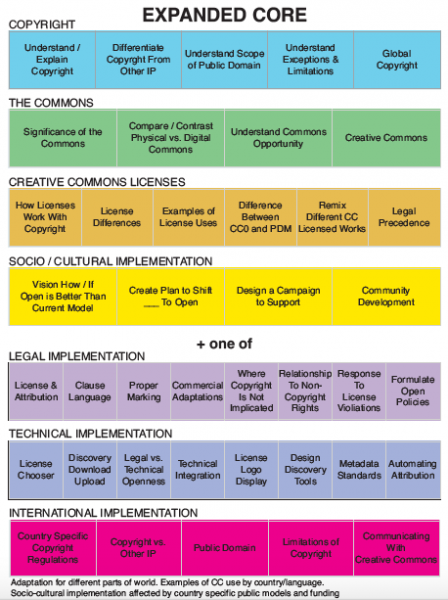 Each unit of learning contains a set of learning objectives which detail the specifics of the kinds of learning we see taking place in each unit. This GoogleDoc provides that detail.
In the second part of the workshop we focused on defining specialized certificates for educators, librarians, and government staff. Specialized certificates are a subset of CORE plus specialized Creative Commons learning unique to the role. Here are two diagrams I created for the Educator specialized certificate. The first one is for teachers, faculty, and instructional designers.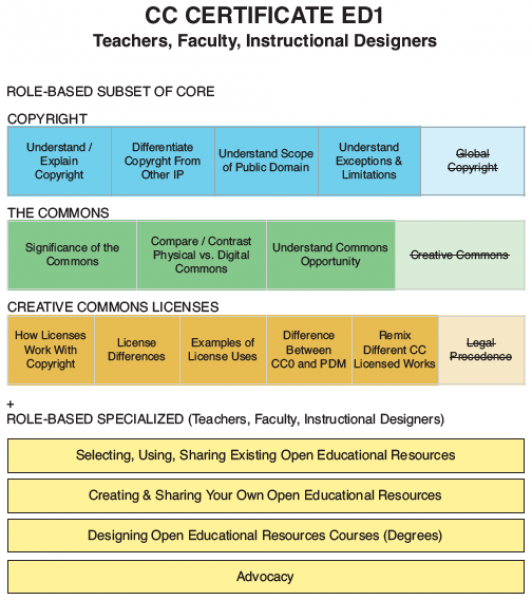 The second one is for administrators and educational technology directors.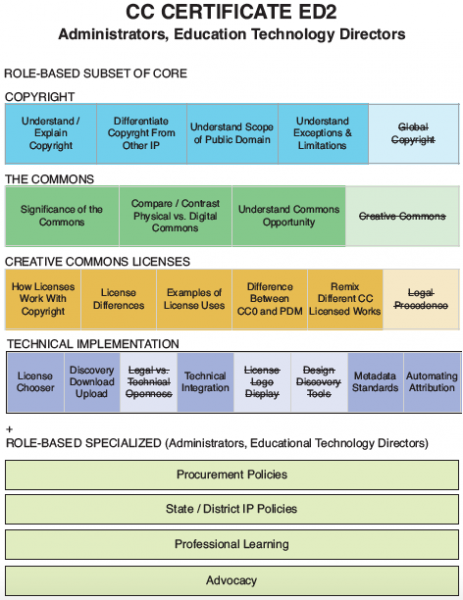 As you can see each certificate makes use of a subset of CORE then adds role-specialized learning. Role-specialized learning contextualizes and applies Creative Commons learning to the specific domain and jobs of real people.
Similar designs for the government and librarian certificates are being worked on. You can also imagine how other specialized certificates could be designed using this methodology – one for continuing legal education for example, or one for open data.
In the coming weeks we plan to share these designs and their accompanying details publicly on this web site with a simple method for all of you to provide feedback, identify existing resources we can use, and suggest learning activities.
I see this as a new form of publicly and openly developing curriculum. I'm excited about these certificate designs and the methodology we're putting in place for their creation. Look forward to sharing them more completely and iterating them with your feedback.