"Take a mere sliver of an idea, and ask it questions. Put on different glasses and look at it again. Stand in another person's shoes and see how it looks from there. You'll be surprised at the clarity that this can produce."
This concept of a "Thinkathon" is timely as we work to build the Creative Commons Certifications. The Design Team meeting in Vancouver earlier this week experienced a fantastic Thinkathon session with colleagues from the UK and Germany from the We Are Open Co-op.
Present in Vancouver were team members Paul Stacey, Kelsey Wiens, Alan Levine, Olga Belikov, and Kamil Śliwowski. The session was conducted across timezones using the peer to peer video communications platform appear.in, where we thought along with Bryan Mathers, Doug Belshaw, Laura Hilliger, and John Bevan. All four have extensive experience in open education, networked modes of working, and group facilitation.
Bryan was doing his unique visual notetaking during the meeting, and we anticipate seeing how he visualizes the three hours of conversation we had together
Make some noise…
A @creativecommons thought from a conversation with @cogdog #edchat pic.twitter.com/7rbOBv7Uav

— Bryan Mathers (@BryanMMathers) July 8, 2016
This all came about because of an open conversation I had with Bryan when I started this project. We spoke of many things about sharing, attribution, and he has been providing a few examples of his visual thinking that came out of that one hour chat.
Why creative works deserve attribution…
From a thinkery chat with @cogdog about @creativecommons #edchat #oer pic.twitter.com/hD2rUKXzdg

— Bryan Mathers (@BryanMMathers) September 2, 2016
What part do you play?…
Part of a @visualthinkery conversation with @cogdog about @creativecommons #oer #edchat pic.twitter.com/l1UshqLzTY

— Bryan Mathers (@BryanMMathers) July 22, 2016
To the people who defend our creative commons – I salute you 🙂@cogdog @mweller @amyburvall @dajbelshaw pic.twitter.com/7Js0ZSwDb1

— Bryan Mathers (@BryanMMathers) May 12, 2016
One of the most valuable parts of the session, after talking about the project and our initial steps, was when they asked us to sketch on post-it notes our individual visual metaphors for the certifications.
On their own they do not necessarily capture the project as a whole, but rather attributes we potentially see in how it works. So without explanation or summary, this may not mean much:
But it was the conversation about these that had us focusing in on ones that resonated- the gardening metaphor, the idea of looking up at the stars and defining/seeing our own constellations, the community/cooperative/mentoring aspects of skateboard parks.
Late in the day we visited the Vancouver Public Library to see their Inspiration Lab. The lab is fabulous example of a library providing creative spaces of sound/video studios for recording and workstations equipped for editing, all potentially as a space for community members to produce content (hopefully shared openly!).
We spent about 40 minutes recording a conversation reflecting on the morning Thinkathon session:
Look for more information soon about the other outcomes of this session. Thanks again to Doug, Bryan, Laura, and John for stimulating a valuable conversation.
And pssss… start paying attention to the #ccquest hashtag in twitter.
UPDATE September 20, 2015: Dog Belshaw published a summary of the thinkathon including Bryan's sketches:
Because thinkathons are brainstorming and free ranging, riffing on Kamil's sharing of the Church of Kopomism we thought about beliefs and, as summarized by Bryan, some ideas about formal and informal approaches: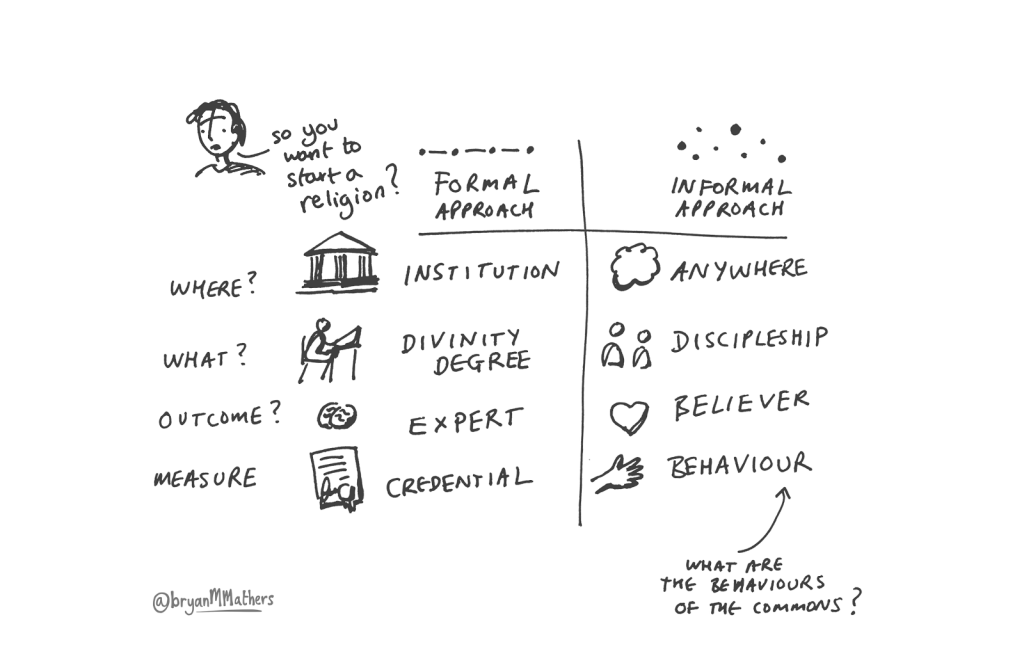 The four questions We Are Open provide for us as thinking points:
What is it like to participate in curriculum/certificate? This has to have both informal and formal piece. What's the experience of engagement?
What are the activities people are engaging in? Knowledge needs to be applied and people should become part of the community.
What does assessment look like? Who is assessing? What is assessed?
What constitutes 'completion'?In a formal sense, and particularly with libraries and governments (they need a start/end).
---
Featured image credit: flickr photo by cogdogblog https://flickr.com/photos/cogdog/29589085911 shared under a Creative Commons (BY) license