Following the stipulations of a re-use license is compliance; this quest asks you to go one step above and express some human gratitude to someone who's works you ahve reused
This join us on twitter via the #CCquest hashtag and spread some gratitude.
Quest Number 4
Express gratitude to someone whose @creativecommons licensed work you have used. Share the source / where reused links #CCQuest
If you have re-used someone's Creative Common Licensed photo. drawing, music, video, writing, let them know that you appreciate their sharing. Tweet it out and/or add a comment to the place you found it. Let them know where you reused it.
But maybe you are new to this and have not had a chance to reuse media. Do some exploration with the Creative Commons search tool to find media that matches an interest or subject that matters to you. Send the creator a comment or a tweet thanking them and letting them know how you might use their creation in the future.
When I started sharing photos under Creative Commons via flickr, I would get emails asking permission to re-used some of them for various purposes. I thought I was doing them a favor by explaining how Creative Commons works, that they did not need to ask permission, just attribute it.
One person responded and wrote, "Yes I know that. I just thought you might want to know where your photo was used."
Head slap.
By the letter of the license, they did not have to tell / ask me about re-used. But by doing so, I get a small reward of knowing and seeing where my photos have been used.
A short comment, tweet, takes so little time, yet it means much to someone who put their work into the open.
Spread some of the gratitude today. And tomorrow.
Our Community is Growing…
Make your node stand out, by tweeting more to #CCQuest, and create connections by mentioning others and/or retweeting.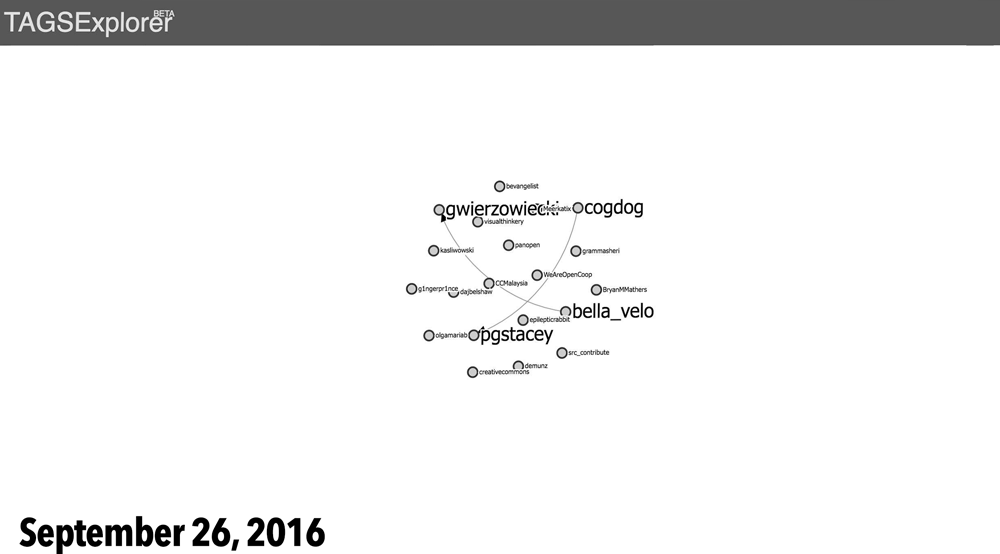 This visualization is created with the Twitter TAGS worksheet created by Martin Hawksey (which nicely for us is published under a Creative Commons BY-SA license!). See the summary stats. Weekly screenshots are merged into this animation.
---
Featured Image: This thank you note in every language is a flickr photo by woodleywonderworks https://flickr.com/photos/wwworks/4759535950 shared under a Creative Commons (BY) license. At the time of writing, it has almost 130,000 views, 154 favorites, and more than 70 comments of appreciation on its flickr page. The creator adds, "Creative commons providers are grateful for your acknowledgment and links."