Gratitude fuels sharing.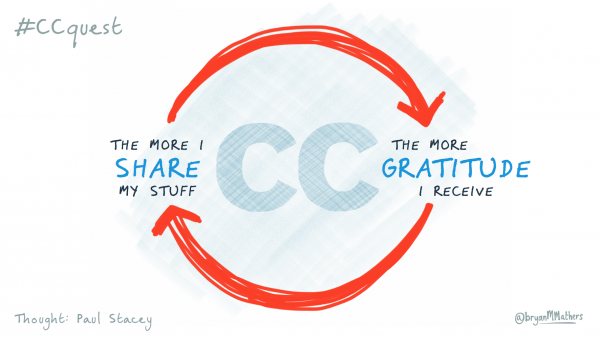 Creative Commons is all about building a vibrant, usable commons, powered by collaboration and gratitude.
All Creative Commons licenses share the common feature of attribution – requiring others who use a creator's work to give the original creator credit.
This weeks CCQuest goes beyond attribution to gratitude.
Have you ever used someone else's Creative Commons licensed digital content? This weeks CCQuest invites you to thank them.
So let me go first and say:
"#tojamura7 thanks for CC surf music http://freemusicarchive.org/music/Tojamura_7/Surfing_EP/Tojamura_7_-01-_Surfing which I used for https://vimeo.com/177911708. Who are you grateful to? #CCQuest"
I invite you to express gratitude to a creator whose CC licensed work you've used. Ideally link to their original work and the new work you created using it.
With gratitude,
Paul
We want to see your expressions of gratitude! Use Twitter to express your thanks and add the hashtag #CCQuest.
Featured image credit: Thank you to @bryanmmathers http://bryanmathers.com/ for his continued support of our quests through his artwork! This weeks image is shared under a CC BY 4.0 license.