In the early design phase of the Creative Commons Certification (which we are peeling out of) we made a call to any and all who were interested. Our simple question was What if?
More specifically though, we were asking, "What might a Creative Commons certification mean and look like?" letting them tell us before we explained what we thought it would be.
The questions are:
Who are you? Introduce yourself, first name fine, where in the world you live, what kind of work you do.
What role does Creative Commons play in the things you do? This could be related to work/teaching, but also in terms of content you create for your own interests.
What would it mean to you to have a Creative Commons certification? What would you do with it, how would it play into the things you do. What is its value?
What might it look like to earn one? Imagine, project a vision for what it would take for you to get a Creative Commons certification, how is it done (in person, online)? How long does it take? What kinds of things are you doing to earn it?
We wanted to hear from educators what they might seek from a certificate, from librarians what they are struggling to understand and communicate about Creative Commons to their institution, from government grant officers to know what aspects of Creative Commons they most vitally need to understand, and from others outside of these groups.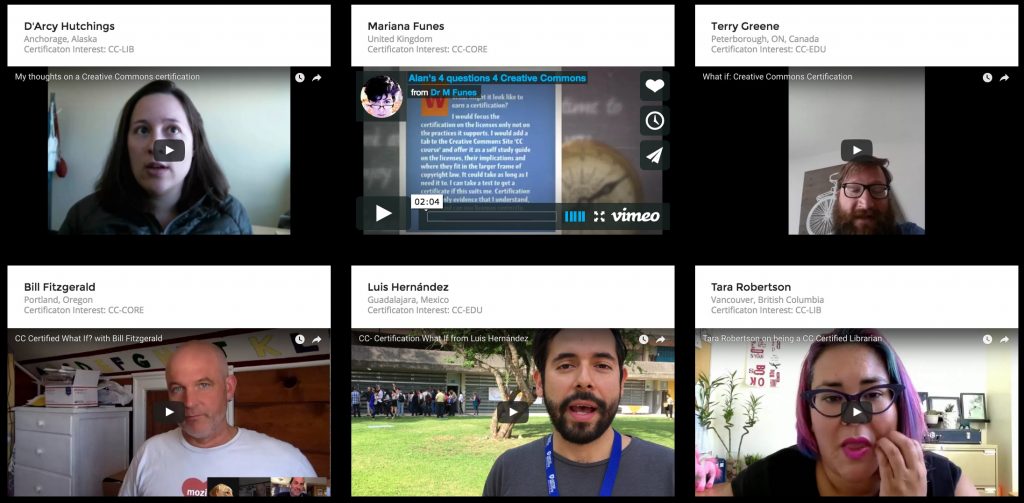 We now have a collection of 28 CC licensed videos where individuals have shared what a Creative Commons certification might mean to them.
Quest Number 7
For our quest this week explore a few of the What If videos and listen for ideas that match your own.
#CCQuest What did you hear in a What If @creativecommons Certification video that fits you? Share video and why https://certificates.creativecommons.org/2016/11/ccquest-07/
Of course, if you are motivated to record your own video, we would love to add it to our collection- share your video.
Help us imagine the possibilities…
Responses
What might a Creative Commons Certification mean and look like? https://t.co/JHVWaG9S7e #ccquest -> an opportunity to add ur voice

— Aaron Davis (@mrkrndvs) November 16, 2016
---
Featured Image: What if I ask for help? Wikimedia Commons image by Maryeoriginals licensed CC-BY-SA, cropped and background fill added to left.