Join our #CCquest on Twitter this week by promoting best visual examples on how to explain the idea of the commons and/or Creative Commons licenses.
Do you know of photos, infographics, memes, comics, GIFs that do this well?
No matter in what language and how professionally or spontaneously created, we seek visuals that are useful in explaining how the commons or open licensing model benefits society, how public domain works, the Creative Commons license suite, license conditions etc.
We hope to include the best examples in the development of our CC Certification materials.
Here is one of my favorite examples of a visual explanation of the Commons. It comes from the last pages of Tales from the Public Domain: BOUND BY LAW? comic book by Keith Aoki, James Boyle and Jennifer Jenkins, 2006, Creative Commons Attribution-NonCommercial-ShareAlike 2.5 Generic.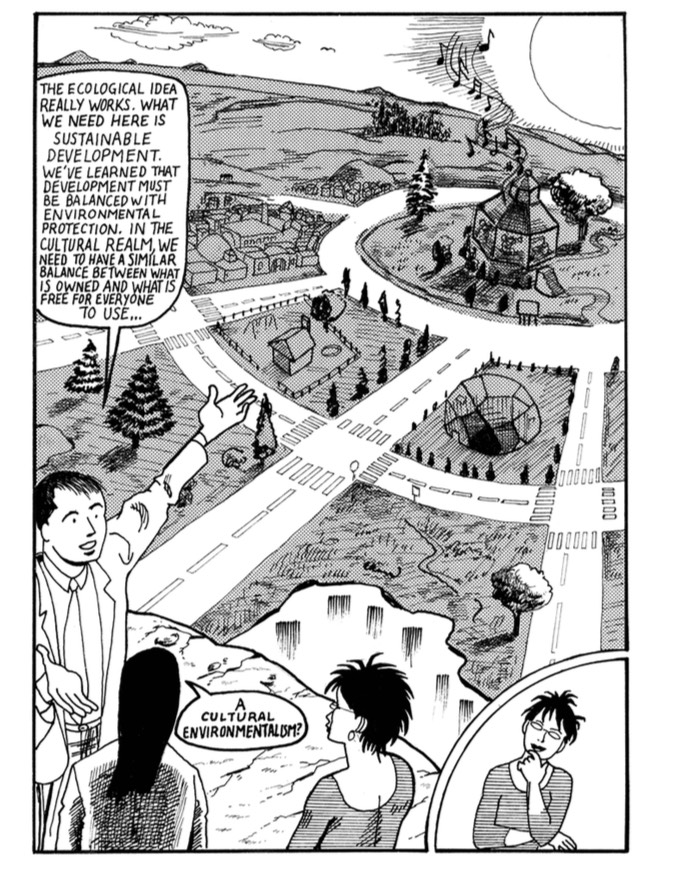 Quest Number 9
Can you share an effective visual explanation of @creativecommons? – Include link, attribution, license. https://t.co/NpfxbOq9MW #CCquest

— Kamil Śliwowski (@kasliwowski) November 29, 2016
A link to the visual is appreciated but if you could specify the license and authors of the materials you will help us even more.
Besides tweeting your response you can also join us in the Creative Commons Slack (we hang out in the #cc-certificates channel) or you can also leave us ideas in a comment below.
Selected Responses
@kasliwowski @creativecommons How about this piece of interactive media (made for my MA)? https://t.co/2aeUBkGLyj #CCquest #requiresFlash

— Dom Pates (@dompates) November 30, 2016
@kasliwowski Made as message for #ds106 students- more [cc]arrots less copyright stick. CC BY-NC original https://t.co/Rjd8h4nc4X #CCquest pic.twitter.com/mmzb5M579b

— Alan Levine (@cogdog) November 29, 2016
My next #CCquest 09 example is @ccpolska poster by Piotrek Chuchla (all icons available on @nounproject) https://t.co/pI2graMG6F pic.twitter.com/Ve54nwAA9c

— Kamil Śliwowski (@kasliwowski) November 30, 2016
---
Featured Image "Open wires" from awesome collection of OpenSource.com free graphics used on thier webpage. All available on flickr.com under CC BY-SA 2.0.