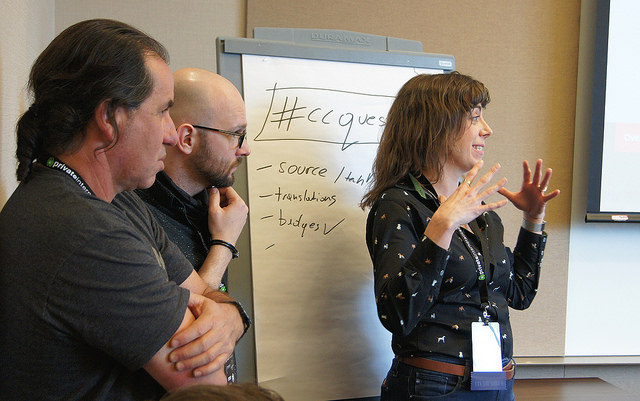 Kelsey Wiens and CC Certificate Team talking about the CC Certificates at the CC Global Summit in Toronto
Photo cc_summit_26 by Sviatlana Yermakovich licensed CC BY-SA
This is update for our great, global Creative Commons community. We've been developing the Creative Commons Certificate program for more than a year now. This program is initially a project for U.S. based 1. educators, 2. government employees , and 3. library staff.
These target groups were chosen based on needs addressed by our generous funders, the Bill and Melinda Gates Foundation and the Institute for Museum and Library Services (IMLS).
Over the last year we've focused on designing and developing the certification programs using open educational resources and open practices. The overall goal is to help increase the depth of knowledge about Creative Commons and increase the number of people who use Creative Commons and support its use in workplaces and communities.
We're grateful to the Creative Commons global community for reaching out over email, speaking with us at conferences, participating in our #CCQuests tweet-storms, and most recently interacting with us at the Global Creative Commons Summit in Toronto. We're thrilled to see the high level of interest in these certificates.
We thought we'd provide answers and preliminary thinking in response to the most common question we hear from you about how the certificate program will be made available and rolled out internationally.
The certificates are currently a project not an ongoing operational program but they have been developed in such a way that they easily become an ongoing program deployed globally in accordance with new Global Network Strategy. We continue to welcome your feedback and suggestions.
The most common question is "When will the certification program be available?"
As content and learning activities of the certificates are developed they are being posted openly for public access at https://certificates.creativecommons.org/. Most of the certificate learning materials are available at that site now. These materials are considered beta as they still have not been quality reviewed or tested. However, we invite you to try them out and provide feedback. Initial quality review and testing is slated for completion this fall.
We are aiming to complete the authoring of the certificates in June 2017. To fulfill our funding requirements we have to do three deliveries of the Librarian certificate before September 30, 2017. Those three deliveries are with American Library Association, the Open Textbook Network and LOUIS library network.
In parallel with completing authoring of the certificates and their initial delivery in the US, planning has begun on defining a means for broader rollout across the global CC network. Broader rollout will require translation and localization of the certificate content.
To support international delivery current thinking is that CC leaders in each country will go through a train-the-trainer program and become authorized to deliver the certificates in their country or region. To support the planning around international rollout it may make sense for the CC Certificates to become a global network platform.
We've also heard many requests for certification expansion to other topics (like GLAM), a continuing legal education certificate, a K-12 certificate and even repurposing certificate content for use in academic for-credit programs for teachers, lawyers, and other professions. All of these are potential future directions to be planned out and prioritized in collaboration with the global network.
We know many of you are already providing training about Creative Commons in your country. We encourage you to continue to do so. You are welcome to incorporate content from the certificates we are developing. We think it will be at least a year before international rollout in an official way begins.